Agricultural Lending Solutions
Since 1955, Community Bank has been committed to helping farmers and ranchers build successful businesses.
Whether you are looking to upgrade equipment, purchase livestock, or inject working capital into your operation, Community Bank has the competitive rates and superior service you deserve. 
The Right Loan to Help Your Business Grow
Farm Real Estate Loans (including timber properties)
Purchase or refinance existing debt with an agricultural real estate loan.
Various terms up to 30 years are available with repayment plans designed to fit your specific needs. 
Ag Operating and Livestock Loans
If you are operating a farm and need a production line of credit, see us about an operating line for all types of livestock and crop operations. We offer loans to finance livestock with terms designed for your individual need.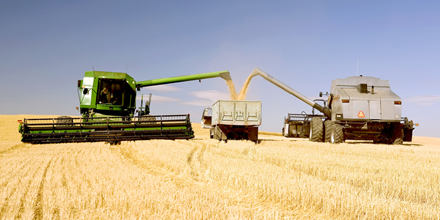 Farm Service Agency (FSA) Guaranteed Loans
Loan guarantees can assist in improving your financial condition. Talk to us about a loan to restructure, refinance or purchase real estate, livestock or equipment. Guaranteed loans can be designed with repayment terms to match the purpose of the loan and your repayment capability.
How Do I Apply for an Ag Loan?