2022 Teach Children to Save Day
Community Bank Participates in "Teach Children to Save" Campaign
April 29, 2022
During the month of April, various Community Bank branches partnered with local schools to celebrate Teach Children to Save Day with savings education. More than 150 local students explored the importance of savings, ways to budget, and other financial topics such as credit scores and lending.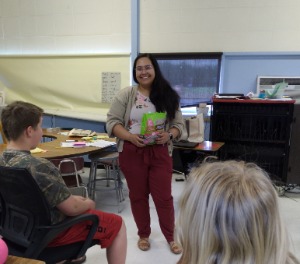 Established by the American Bankers Association Foundation in 1997, Teach Children to Save and the Foundation's other financial education initiatives have helped reached 10.5 million young people through the commitment of more than 260,000 banker volunteers.
 "Familiarizing students with financial education fundamentals at an early age puts them on a path to becoming smart money-managing adults," said Community Bank President and CEO, Tom Moran. "Teach Children to Save is a great opportunity for us to share our passion for financial education and improve our local community."
Most of this year's presentations were given to students in fourth and fifth grade. The students were very inquisitive and are wanting to save funds for things such as going to college and purchasing a home.
 In addition to Teach Children to Save Day, Community Bank partners with Banzai to provide teachers with a free financial literacy program to use in their classrooms. Banzai teaches students to navigate adult financial dilemmas with real-life scenarios.
Community Bank offers the following tips for money-savvy parents raising money-smart kids:
Set the example of a responsible money manager by paying bills on time, being a conscientious spender and an active saver. Children tend to emulate their parents' personal finance habits.
Talk openly about money with your kids. Communicate your values and experiences with money. Encourage them to ask you questions and be prepared to answer them – even the tough ones.
Explain the difference between needs and wants, the value of saving and budgeting and the consequences of not doing so.
Open a savings account for your children and take them with you to make deposits so they can learn how to be hands-on in their money management.
Let friends and family know about your child's savings goal. They will be more likely to give cash for special occasions, which means more chances to save.
Pictured: Emily Davis of Baker City giving a presentation at South Baker Intermediate School.